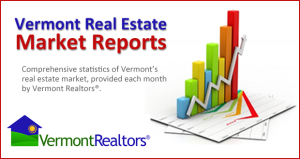 How long can the residential real estate market go on like this? We are about two years into a national trend of dropping housing supply and increasing median sales prices. There are some regional variations to the story, but the shift to a predominantly seller's market is mostly complete. Multiple-offer situations over asking price are commonplace in many communities, and good homes are routinely off the market after a single day. It is evident that a favorable economy keeps hungry buyers in the chase.
New Listings were down 6.2 percent for single-family homes but increased 1.0 percent for townhouse-condo properties. Pending Sales increased 27.2 percent for single-family homes and 8.5 percent for townhouse-condo properties.
This is a research tool provided by Vermont Realtors®. Percent changes are calculated using rounded figures.
The Median Sales Price was up 5.8 percent to $237,000 for single-family homes but decreased 2.5 percent to $197,900 for townhouse-condo properties. Months Supply of Inventory decreased 23.5 percent for single-family units and 21.1 percent for townhouse-condo units.
Although the unemployment rate remains unchanged at its favorable national 4.3 percent rate, wage growth has not been rising at the steady clip that would be expected in an improving economy. Sales activity manages to keep churning along despite looming shortages in new construction. Lower price ranges are starting to feel the effects of the supply and demand gap, as first-time buyers scramble to get offers in at an increasing pace.
See Full Report
Bennington County
Windham County
Bennington City
Brattleboro
Dover
Stratton