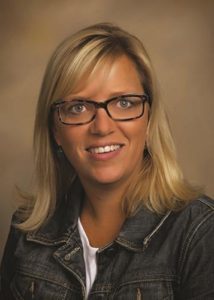 Betsy Wadsworth, a broker associate for Four Seasons Sotheby's International Realty in Mount Snow, has been named the 2019 Realtor of the Year by the Vermont Association of Realtors (VAR). 

VAR's REALTOR® of the Year recognition is the association's highest honor and recognizes a realtor member for outstanding commitment to the REALTOR® industry and to their clients and community.  Betsy was selected after also being named 2019 REALTOR® of the Year by the Southern Vermont Board of REALTORS® (SVBR).
"Betsy's leadership has raised the level of professionalism for the REALTOR® organization in southern Vermont," said SVBR Association Executive Kathleen Sweeten. "Her energy and commitment are seen in everything she does for the REALTOR® organization and her community."
In a career that has spanned just 10 years, Betsy has built a reputation for honesty, competence, and ethical practices.  She served as president of SVBR for the past two years and has held numerous leadership roles on the board. She is known as a champion for member involvement, coordinating and leading projects that connect SVBR members to their communities. She spearheaded a food drive for the Deerfield Valley Food Pantry and participated as a clean-up crew member at the Old School Community Center in Wilmington. She participated in VAR's recent statewide School Supply drive to help support local schools and helped organize a cleaning and painting event for a children's program in Brattleboro. Betsy was also influential in a Windham County economic development forum on housing, where she shared information and insights that were vital to the development of the first bi-county Community Economic Development Strategy for Windham and Bennington counties.
Betsy has volunteered for the Stratton Mountain School's annual fundraising event and was a school board member for The Mountain School at Winhall for eight years. She lends her hand as a volunteer for Habitat for Humanity and is a frequent sponsor of local events and festivals. She served one year as an auditor for the Town of Stratton and is currently working with the town to bring improved Internet services to the area.  Betsy has also worked with the Sustainable Energy Outreach Network to recognize sustainable homes in the real estate industry. She contributes a portion of every real estate transaction to local charities Senior Solutions, Deerfield Valley Rescue, Hungry Lion Bike Ride, and the Vermont Food Bank.
"Betsy exemplifies the spirit and values that make our REALTOR® brand strong," said VAR President Stephanie Corey. "Her dedication to excellence has profoundly impacted her community and demonstrates the commitment that REALTORS® have to the highest level of service in their profession and in their communities."